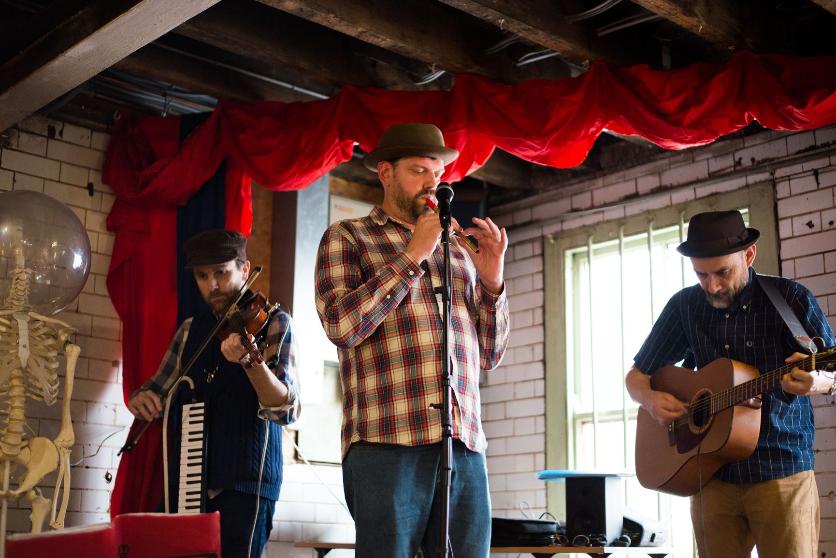 Photo by kind permission of Dino Paciulli
News...
Next gig

The Queer Online Folk Festival


We're delighted to be playing (via a specially-filmed video on the festival's YouTube playlist) at QOFF: The Queer Online Folk Festival this Saturday. Info here:

facebook.com/QOFF.festival

It's the UK's first grassroots queer folk festival and we hope to see you there!

What we had lined up before Covid struck:

The Gallery Cafe, London


We would have done another gig at the Gallery Cafe, reflecting a season of LGBTQ+ themed work.


Brighton

We were doing a gig with Sam Cutting for Brighton Fringe, and another event at Bom~Banes.

The Apple Tree, London

Our programme of epic folk sessions would have continued.





Ongoing Projects

John Clare


We played a range of songs and dances collected by the poet John Clare at a study day at the Faculty of English, Cambridge University, organised by the Centre for John Clare Studies. We had a great time and look forward to building on the experience. Starting by recording the music from the gig. Watch this space!


Mobile Incitement


In September 2017 we appeared at the Brixton City Festival as part of Gerrard Winstanley's True and Righteous Mobile Incitement Unit, a project we've been developing with Daedalus Theatre Company, supported by Ovalhouse, to explore England's history of radical ideas, protest and dissent. Then, over the last year and a bit, we've had a residency at Queen Mary uni to develop the project. followed by a range of performances and workshops on campus and at the wonderful Poplar Union. We took the show to Latitude Festival 2018. Now we're arranging a national tour. Please get in touch via Daedalus if you'd like us to bring the show to your venue!


Recordings

Following on from our recordings of Ratcliffe Highway and 6000 Miles, we've now recorded The Ballad of Newhaven High Street. Have a listen!



Some past gigs...
Bom-Bane's, Brighton - we were on the bill, alongside the Sacred Harp Singers and others, for an evening of music at this much-loved Kemptown venue. Such a nice event. And there are plans for us to come back.

'A' Team Arts 40th Anniversary - Yesterday Today Tomorrow - we played at this promenade event around estate in Tower Hamlets, then at The Brady Centre, alongside some amazing young performers.

We played at Deptford Pride and it was awesome. So many people singing their hearts out with us to Solidarity Forever...

We were honoured to be invited to be part of the amazing Leicestershire folk night Folk at the Factory in Fleckney, sharing the bill with Looma, raising funds for the local Motor Neurone Disease organisation, and LOROS.

Horseplay, Brighton: We were delighted to be asked to perform at this legendary spoken word/new writing/music night at The Black Dove, and playing to such a supportive and attentive audience was awesome.

The Apple Tree, Clerkenwell: we did a queer, revolutionary gig and singalong in May, followed by a folk session in the main bar in June. Both were cracking nights and we hope to make them more of a regular thing. So watch this space.

Cambridge University: we performed songs and dances collected by the poet John Clare and shared our research at a study day at the Faculty of English, organised by the Centre for John Clare Studies.

The Gallery Cafe, Bethnal Green. We've now played three gigs here in aid of the Albert Kennedy Trust; the second two were organised and hosted by us.

Theatre Deli, Broadgate, London: a protest-song themed gig, which was an offshoot of our Mobile Incitement project.

Silk River: A great project with young people in Tower Hamlets as part of Kinetica's major community arts project. You can read an account of the event and see some photos here.

Other venues we've played at include:

The East Dulwich Tavern

The Old Red Lion, Kennington

Glass Factory No.9, East Ham

Ovalhouse, Oval

Boogaloo, Highgate

The Night with No Name 2 @ Red Door Studios, East Ham

The Jamm, Brixton

The Griffin, Vauxhall
If you'd like to talk to us about organising a gig or at playing at an event, please
get in touch!