As well as gigs and folk feasts, we have a tendency to get involved in projects. As a band, we're always engaged in researching the role of the English folk tradition in social change, and how that resonates today. And we've always been interested in how folk music articulates an alternative, people's version of history. This finds expression in our habit of updating old songs in order to explore how the ideas they contain relate specifically to our concerns as a gay, socialist folk band, and also more generally to the issues the UK and the wider world are dealing with today.
The biggest project we're working on, outside our own exploration of folk music, is Mobile Incitement , a collaboration with Daedalus Theatre Company. More on that, below.

Other projects include:
Silk River (2017) This was a major international project, linking communities in India and the UK. Each community produced banners which were processed over many days along the Thames in the UK and the Hooghly in India. We were responsible for music to support a series of street performances by young people as the project passed through Tower Hamlets, and then provided music for a staged version of these performances at A Season of Bangla Drama.

John Clare, music collector (ongoing) We're really interested in the fact that the poet John Clare, whose writing has long been a source of inspiration for us, was an avid collector of folk songs and dances, and played the fiddle. We've been working through some of his collection, especially the dance tunes, and making some of our own arrangements.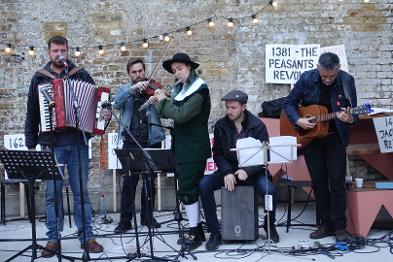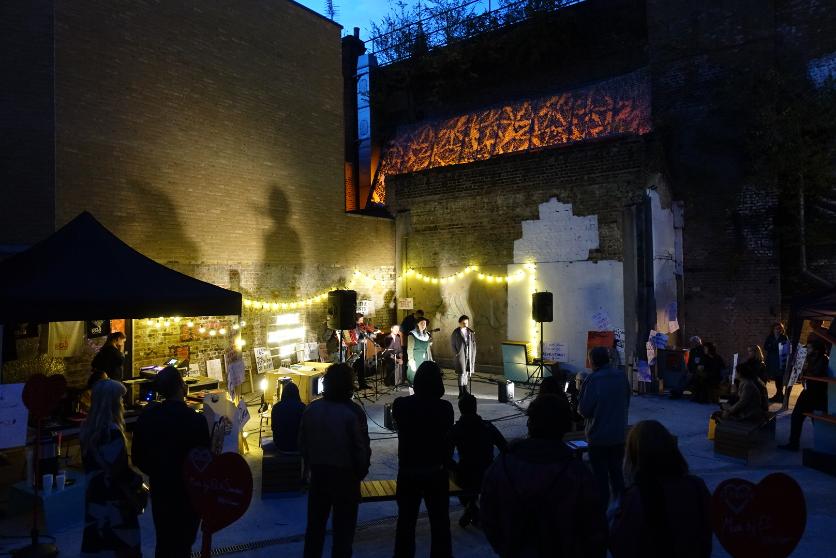 Gerrard Winstanley's True and Righteous Mobile Incitement Unit (ongoing) Known as Mobile Incitement for short, this is a collaboration with Daedalus Theatre Company, looking at the history of protest through folk music, historical texts and new writing. It centres on the Mobile Incitement Unit, a portable contraption containing everything needed to stage a performance, run participation workshops and, of course, foment revolt.

Ovalhouse in South London has been supporting the project, and we performed the first iteration of it as part of Ovalhouse's Brixton City Festival. We then worked with students from Queen Mary University and local residents in East London to develop a participation programme that will enable us to make a bespoke, local version of the piece for every place we take it to. We're also developing an online archive. The mobile incitement unit, designed by the band's very own Andy Bannister, also works as a stand-alone installation. This summer we took the project to Latitude Festival. We're now planning a tour.

You can read more about the project on the Daedalus website.